The Speaker Beeper: The Audio Professional's Secret Weapon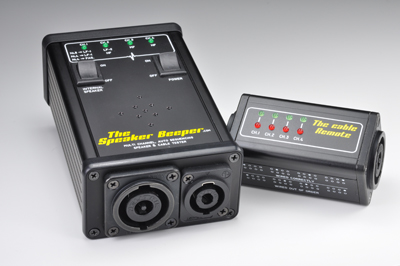 The Speaker Beeper saves you and your clients time, headaches, and costly mistakes by providing accurate driver component testing instantly and easily.

What does the Speaker Beeper do?
Ensures that all drivers are functioning correctly.

Checks the wiring between locations for accuracy.

Indicates which speaker cables are fully engaged and working properly.

Instantly reviews vertical and horizontal coverage throughout a venue.
Why is it indispensable?
The Speaker Beeper provides incredibly accurate and instant feedback, letting you focus on making a room sound great.

The unit's compact size and versatility allows you to use it anywhere: in front of clients, on or off stage, at installation sites, in the shop or on the road, and even without a power source.

With instant-read capability, you can tell immediately if rental gear is functioning properly before it goes out the door to clients, and on its return. You can also use the Speaker Beeper to check your wiring as you install, without having to rely on lengthy testing or best guesses.

Minimize audience complaints by using the Speaker Beeper as an instant sound source to determine the best coverage in a room.
Product Specifications
Competively priced at $265.00 + tax and shipping

Works with all NL4 and NL8 connectors.

Uses 4 AA batteries.

Comes with a custom molded case.

Sorry this product has been discontinued
Copyright © 2008 LJ Productions